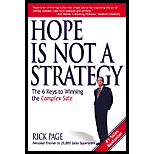 I was recently assigned reading for my job before attending our national sales meeting. The book is titled "Hope Is Not a Strategy". I found it a little difficult to embrace the book just based on its title because hope IS actually my strategy in life. I get the point of the book though; it's all about strategizing and planning in sales and territory management and isn't referring to life or religion at all, but I found it still pretty ironic.
To add to the irony, the same week at church, the message was about the cycle in which we grow in character, hope, and trust as we face trials. Like the verse says "Consider it pure joy, whenever you face trials of many kinds, because you know that the testing of your faith produces perseverance. Let perseverance finish its work so that you may be mature and complete, not lacking anything." (James 1:2-4) God puts us through trials to build us in faith.
Trials = suffering, which leads us to perseverance, which leads to building character, which leads to HOPE.
This life cycle really speaks to me as I have seen this cycle play out in my life a few times over. In fact, I've seen the cycles overlap in my life which can be a real challenge to persevere at those times. All in all, you can grow from this, push on, and build character and take the opportunity to put more hope and faith in God.
I can attest first hand from the trials I have faced, that HOPE is my strategy in life!